Welcome to the only place for rimfire beltfed firearms and rimfire beltfed conversions. Lakeside Machine LLC is known around the world as the only manufacturers of these finely made mechanical marvels. Join our forums for specials, model specific forums for all our models, and the latest in customer conversation. Visit us on YOUTUBE to see videos of many of our products in operation. Many of the items you see can be owned by you in semi-auto form. Your beltfed 22LR fun can begin today with our product called the Razorback!!
ANNOUNCEMENT
Lakeside Machine LLC will close its doors December 31st 2013!!
We appreciate the years of business from all our followers around the world!!
---
ATTENTION RAZORBACK BUYERS.......
We can only take names for interested buyers at this time.
Call to be placed on the list for the last run.
50 units (estimated) will be made.
Price will be determined later when product will be available.
The picture below is of the latest version made. Our last version will have a different front end configuration.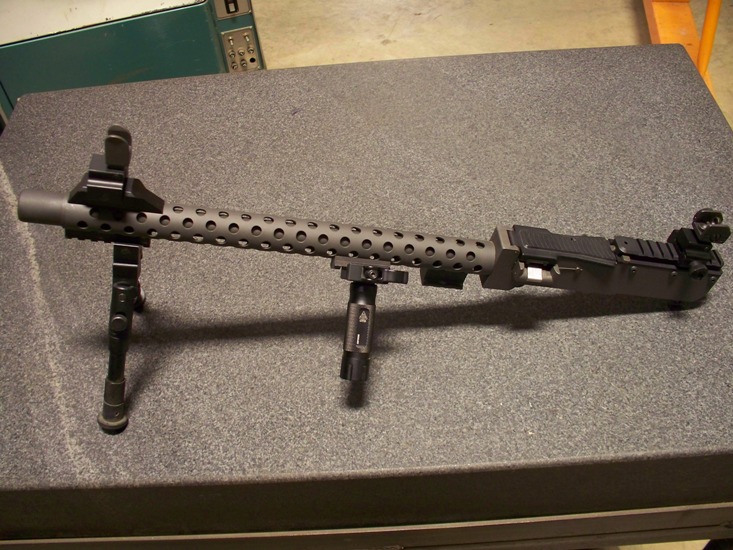 The Razorback is a belt-fed 22 conversion for AR15 type rifles. Each Razorback comes complete with one 50 round belt, reduced power hammer spring, custom heat shield, flip up sights, bi-pod, foregrip, and buffer system for either a collapsible or full length stock system. You do not need anything but ammo, and your m16 lower receiver.
(semi auto compatible versions available)
$TBD
Join the message forums for details and any updates.
---
(6 available as of 9/1/13) 1919a4 semi-auto miniatures $3995
(3 available as of 9/1/13) 1917a1 miniatures $4495
LAST RUN
These are a true 22LR beltfed firearm in 1/2 scale!!
(Last small production run of 2013 and that will be it!)
Call to BUY NOW!!
Unfortunately the last run of guns will NOT have crates and will be sold with minimal accessories due to lack of materials on hand and time constraints.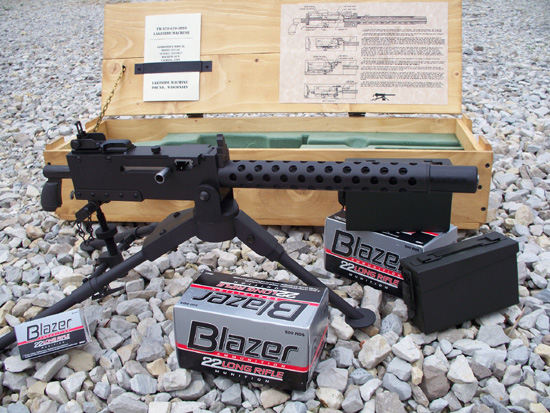 >>>>>>>>>>>>>>>>>>><<<<<<<<<<<<<<<<<<<